EDLS' Bahamas Industrial Tribunal Visit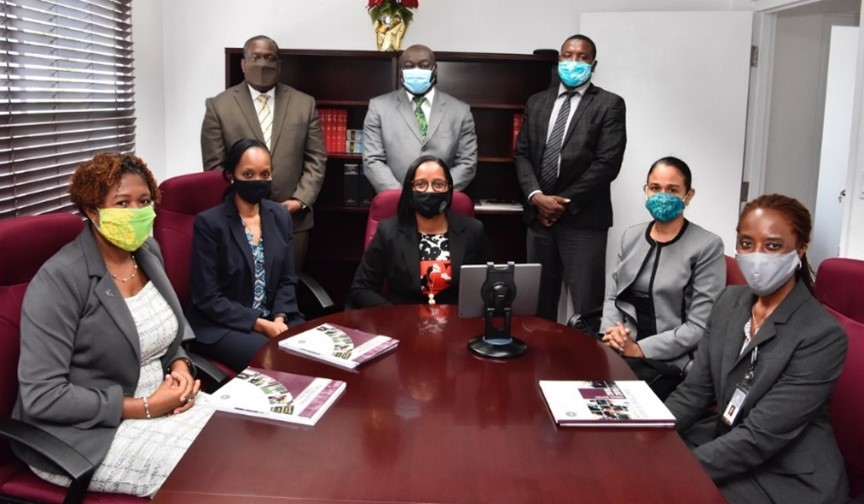 Seated from left: Tutor, Carla Card-Stubbs, Director, Legal Aid Clinic, Nicole Sutherland King, President Industrial Tribunal Mrs. Indira Demeritte-Francis, Tutor Raquel Williams, and Eugene Dupuch Law School Principal, Tonya Bastian Galanis. Standing from left: Tutor, Kevin Farrington, Senior Tutor (Ag.) Clive Guy, and Tutor Darron Ellis.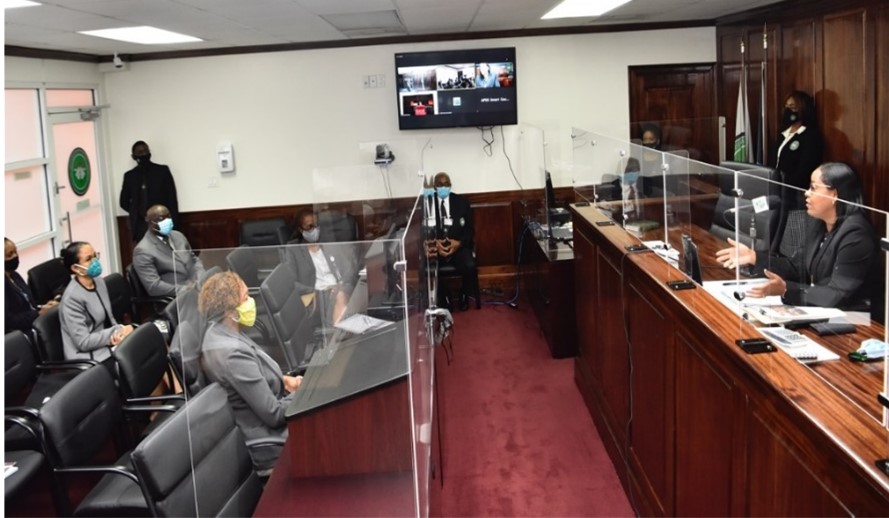 President of the Bahamas Industrial Tribunal, Indira Demeritte-Francis addresses EDLS and provides demonstration of the technology.
On September 22, 2020, the Industrial Tribunal of The Bahamas (the Tribunal) hosted the faculty of the Eugene Dupuch Law School (EDLS) to an 'information sharing visit.'
The Tribunal has made a groundbreaking achievement with the introduction of Smart Courts to the country. Through its partnership with APEX – The Caribbean Agency for Justice Solution (APEX), the Tribunal has implemented the Case Management Solution, a system which enables the Tribunal to track all of its cases from inception to disposition of the files. The Tribunal has also implemented the Curia Court Management Suite. The Curia E-filing portal allows Counsel and Attorneys-at-Law throughout the country to access their files and upload documents from their respective law offices. An Automated Hearing Transcription has also been implemented in the Smart Courts and cases can be transcribed into documents while being heard.
EDLS' Principal, Mrs. Tonya Bastian Galanis congratulated Mrs. Indira Demeritte-Francis, President, of the Tribunal on the technological advancements made by the Tribunal which she opined created additional opportunities for the peoples of The Bahamas to have better access to justice.
Principal Galanis noted that the Law School, had recently partnered with APEX in hosting its Law and Society Summer Webinar Series. Further, APEX had also provided the EDLS' Legal Aid with the Curia Court Management Suite and assisted the Clinic with its implementation. Mrs. Galanis observed the importance of the Law School equipping students with the requisite technological skills and exposure for them to competently work as attorneys in a rapidly changing legal environment.
Mrs. Nicole Sutherland-King, Director, Legal Aid Clinic expanded on the LAC's use of the new e-filing system and said, "The Tribunal's implementation of technology is an excellent example of how technology can be used not only to improve efficiency in the delivery of justice but can be leveraged to increase the access to justice which is an ongoing discussion with students in the clinical programme."