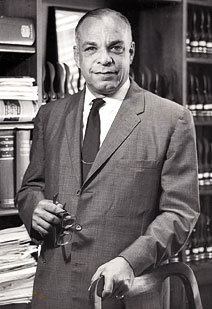 Established by the Council of Legal Education (Caribbean), The Eugene Dupuch Law School, opened its doors to its first students in September 1998.
Like its sibling schools, the Hugh Wooding Law School in Trinidad and Tobago and the Norman Manley Law School in Jamaica, both established in 1975, the Eugene Dupuch Law School prepares students for admission to practice in Caribbean territories. It is here that our students obtain post graduate legal education, before being admitted to the Bars of various Caribbean countries.
The Law School is named after the famed politician and lawyer, the late Hon. Eugene Dupuch Q.C. Mr. Dupuch began his career as a journalist before moving on to politics and law. He received a Bachelor of Laws degree from the University of Toronto, Canada in 1947 and was called to The Bar at Lincoln's Inn, London and at Nassau, The Bahamas in 1948. He was made a Queen's Counsel in 1964. He was a member of the Bar Council of The Bahamas Bar Association and a member of the Executive Council from 1953 – 1964. In 1953 Mr. Dupuch was awarded the Coronation Medal and was permitted by Her Majesty the Queen to retain the title of "The Honourable". He served as a Member of the House of Assembly representing the Crooked Island District from 1950 – 1962 and the East Central District, New Providence from 1962 – 1967.
We are proud to celebrate over 20 years of excellence in legal education and our commitment to social service. EDLS began with just 28 students and the support of a small number of dedicated faculty and staff at the former Oakes Field campus. In 2018, we moved to a new state of the art facility at City Corporate Centre on Rosetta Street in Palmdale.
Over the past 20 years EDLS has matriculated more than 450 students who are now practicing lawyers across the globe. To date, students who have graduated from the Eugene Dupuch Law School have come to us from Anguilla, Antigua, The Bahamas, Barbados, the Turks & Caicos Islands, the British Virgin Islands, Guyana, Jamaica, Trinidad and Tobago, St. Kitts and Nevis, St. Vincent & The Grenadines, the U.S. Virgin Islands, the United States of America and Canada.
Through our training programmes, social outreach, community activities and collaboration with civil society, the Eugene Dupuch Law School strives to meet the needs of our students, contribute to the advancement of the region and the support of the rule of law.